4 Enhancements for Your B2B eCommerce Solution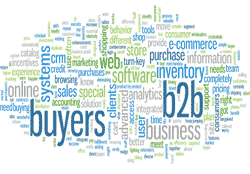 E-commerce software rarely fits quite right for B2B. Business to business buying online is far more complex than the relatively simple consumer shopping cart. You've got diverse kinds of buyers to worry about: business equipment purchasers, supply consumers, product distributors, merchandise wholesalers, and more. Some clients have bargained special contracts while new buyers pay at a completely different price. They all want a wonderful user experience, and for almost all of them that most certainly does not mean browsing product-by-product through catalog photos. You've got to give them something better. Based on Higher Media's experience, here are four of ideas we think will help get you there:
1 - Provide Your Business Customers with Business-Grade Buying Tools
B2B buyers need special tools for payment, pricing, bulk, and more
B2B buyers shop very differently from consumers, and you need special tools to meet their needs:
Pricing Tiers by Client
Your shopping cart will need to support different pricing tables for each client login in order to reflect any special contracts or negotiations on a client by client basis.
Varied Payment Support
Your clients will want to pay in several more ways than the common consumer. A B2B shopping cart needs to support payment via purchase order, line of credit, direct billing, credit card, etc.
Access to Inventory Information
B2B buyers often need to know if you can support the volume of their orders on their schedule.
A Faster Buying Process
B2B buyers often make large recurring purchases and don't have time to waste clicking through catalog pages designed for consumer browsing. Instead, you should provide them with power tools to buy in bulk, configure shipping lots, schedule against inventory, and compare product dimensions that matter to a business buyer.
A Shared Catalog for B2B & B2C
An advanced B2B eCommerce solution integrates with its counterpart B2C system to avoid duplicate work. You should be able to manage catalog and inventory in one place, and share all that information across both B2B and B2C software solutions.
Sub-Accounts and Permissions for Everyone on Their B2B Buying Team
Business clients often have multiple buying agents for various regions or outlets. To support their senior and junior purchases alike, give your clients control permissions over what their buying team can access and do on your store, depending upon who is logged in.
2 - Stop Fighting Your Turnkey Shopping Cart; Tailor a Software Solution to Fit
Custom software is far less expensive to support and use
Most turnkey e-commerce software is built with the consumer buyer experience in mind. They often lack essential features your B2B buyers are longing for. You may try to meet those needs by adding on modules and hacking together extensions, but these quickly become cumbersome to use and costly to develop and maintain.
In our experience, it is not uncommon for patched-together customizations and extensions to turnkey software to cost more to implement than a well-planned fully custom solution. And that's just the cost of writing code. Software and modules that don't quite match your needs end up costing a lot of staff time to use day in and day out.
The better return on investment is a custom software solution tailored to the way your B2B clients buy. Provide forms and interfaces that make it easy for everyone to do their jobs. Cut out all the hoop-jumping for your clients and your staff. You will all be happier. You may earn more business, too.
3 - Integrate Your Web Store with Inventory, Accounting, and Marketing Systems
Systems integrations increase efficiency and eliminate duplicate work
Integrated systems increase efficiency by eliminating the costs and mistakes of duplicate data entry. Your site can automatically share live information with your inventory systems, your ERP and CRM software, your shipping & fulfillment systems, and your accounting database. Let robots do the paper pushing while you go read to your kids.
Integration benefits your B2B buyers as well. With access to information about the quantity and timing of your inventory, buyers can purchase with confidence. Your sales team can use valuable CRM analytics to deliver the best incentives to your buyers at the right time.
4 - Segment Customers for Targeted Incentives Using Advanced Web Analytics
Analytics should help you build client loyalty, not just count pages
Your web store tracks user behavior. But is it tracking them with a plan on how to move each user forward to repeat purchases and brand loyalty?
With advanced web analytics tied into your marketing and sales plan, you can identify where site visitors are at on their purchase path by their interactions. Once you know where they are, you can deliver offers designed to move them to the next level. Analytics should help you build client loyalty and increase the value of your relationships not just count pages.
The stats will reveal which segments provide the greatest opportunity to create new offerings and to nudge buyers to a higher level. You can upsell online, or use your integrated CRM to inform your sales team of who is ready for an off-line nudge, based on their behavior on the site.
With thoughtful planning in advance, your B2B shopping experience can excel far beyond the limits of turnkey consumer e-commerce software. Whether through a fully bespoke solution or by a well-conceived systems integration, investing in advanced B2B e-commerce solutions can supply not only an optimized transactional system, but also an integrated toolkit that pushes your business forward to greater opportunities and success.